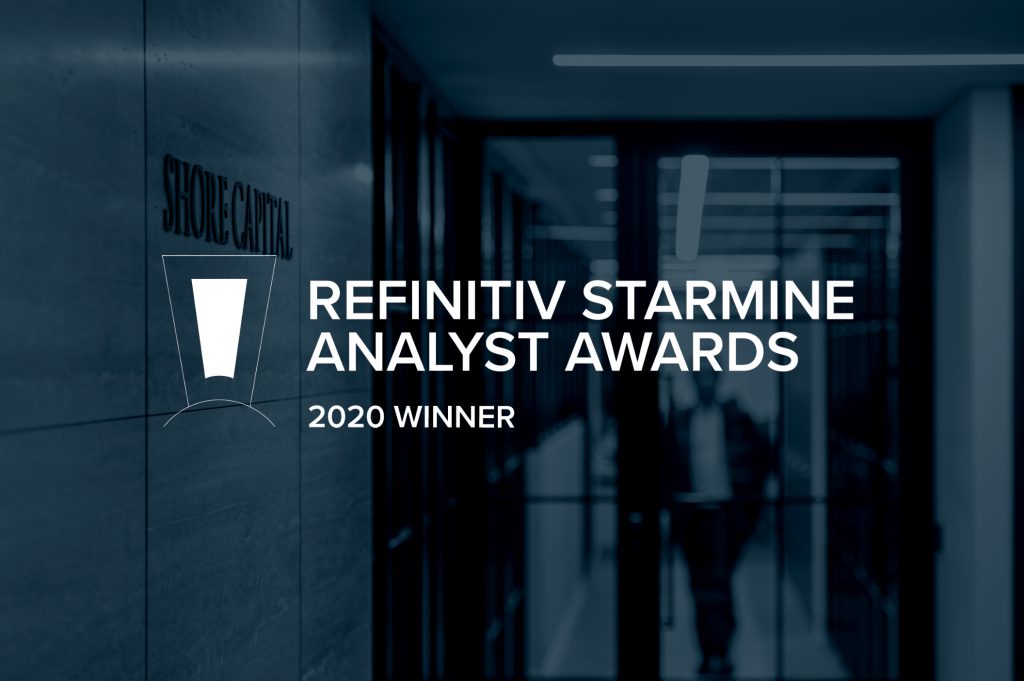 Shore Capital's Financial Services research ranked #1 in Europe
Shore Capital's financial services research team has been awarded several accolades in the latest Refinitiv StarMine Analyst Awards, with analysts Gary Greenwood and Paul McGinnis achieving top 3 spots in the UK and Europe.
Gary Greenwood was ranked the #1 Financial Services earnings estimator in Europe by the awards – which are globally recognised as the gold standard in the objective measurement of sell-side research analysts – with Paul McGinnis at #3. Paul McGinnis was also ranked #2 earnings estimator for UK Banks & Financial Services.
Shore Capital analysts were also recognised in several other categories in the UK awards, with media analyst Roddy Davidson coming in at #2 earnings estimator, retail analyst Greg Lawless the #2 stock picker and healthcare analyst Adam Barker the #3 stock picker.
Dr Clive Black, Head of Research at Shore Capital Markets, said: "Shore Capital Markets has an excellent track record for high quality equity research based upon rigorous analysis from our team of experienced analysts. The StarMine awards further underscore our strong credentials as a highly respected player in UK capital markets."
The Refinitiv StarMine Analyst Awards measure performance based on the returns of their buy and sell recommendations relative to industry benchmarks and the accuracy of earnings estimates. They are used by buy-side firms to identify the leading analysts at sell-side firms.
The full results are available here: https://www.analystawards.com/index.php
For Shore Capital media enquiries, please contact:  
Adele Gilbert: +44 (0)74 8477 8331
Note to editor
About Shore Capital
We are an independent securities business offering institutional and corporate clients leading investment banking, research, sales and trading services, including fixed income.  We are represented across the UK enabling extensive distribution and institutional coverage. This distribution capability is complemented by our experienced corporate advisory and broking team who offer discreet, innovative and valued advice to companies on both the Main Market and AIM.  Shore Capital is also the 3rd largest market maker by number of AIM stocks covered.
Our cross-disciplinary team has deep, market leading experience in a wide range of small and mid-cap UK companies within the following sectors: Consumer, Financials, Healthcare, Insurance, Natural Resources, Real Estate, Support Services, Technology and Media. Our research on over 250 companies is distributed to an extensive institutional client base in the UK and Europe.
Shore Capital is a trading name of both Shore Capital Stockbrokers Limited and Shore Capital and Corporate Limited.