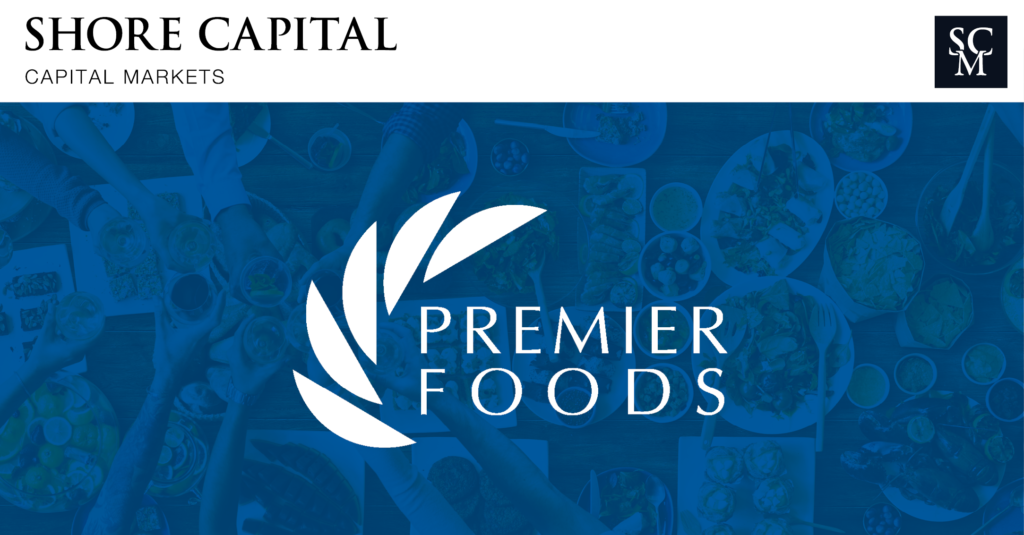 Shore Capital appointed as Joint Broker to Premier Foods Group Ltd
Shore Capital is delighted to have been appointed as Joint Broker to Premier Foods Group Ltd, the premium listed British food company with a market cap of £950m.
Premier Foods is one of the UK's largest listed food companies and a constituent of the FTSE 250 Index. With over 4,000 employees, 15 manufacturing sites and offices, they operate in the ambient food sector and hold major brands including Mr Kipling, Batchelors and Bisto.
Premier Foods is the latest addition to our market-leading franchise advising consumer, food and beverage sectors with existing clients including, amongst others, Morrisons, M&S, Cranswick, Greencore and AG Barr.
For further information please contact:
Shore Capital: +44 (0) 20 7408 4090
Corporate Advisory: Stephane Auton / Daniel Bush
Corporate Broking: Malachy McEntyre / Chloë Booker-Triolo
Research: Clive Black / Darren Shirley
Sales: John Ritchie
Market Making: Ray Powell
Investor Relations: Jane Horder
For media enquiries, please contact:
Adele Gilbert: +44 (0)7484 778 331
Note to editor
About Shore Capital
We are an independent securities business offering institutional and corporate clients leading investment banking, research, sales and trading services, including fixed income.  We are represented across the UK enabling extensive distribution and institutional coverage. This distribution capability is complemented by our experienced corporate advisory and broking team who offer discreet, innovative and valued advice to companies on both the Main Market and AIM.  Shore Capital is also the 3rd largest market maker by number of AIM stocks covered.
Our cross-disciplinary team has deep, market leading experience in a wide range of small and mid-cap UK companies within the following sectors: Consumer, Financials, Healthcare, Insurance, Natural Resources, Real Estate, Support Services, Technology and Media. Our research on over 250 companies is distributed to an extensive institutional client base in the UK, Europe and US.
Shore Capital is a trading name of both Shore Capital Stockbrokers Limited and Shore Capital and Corporate Limited.