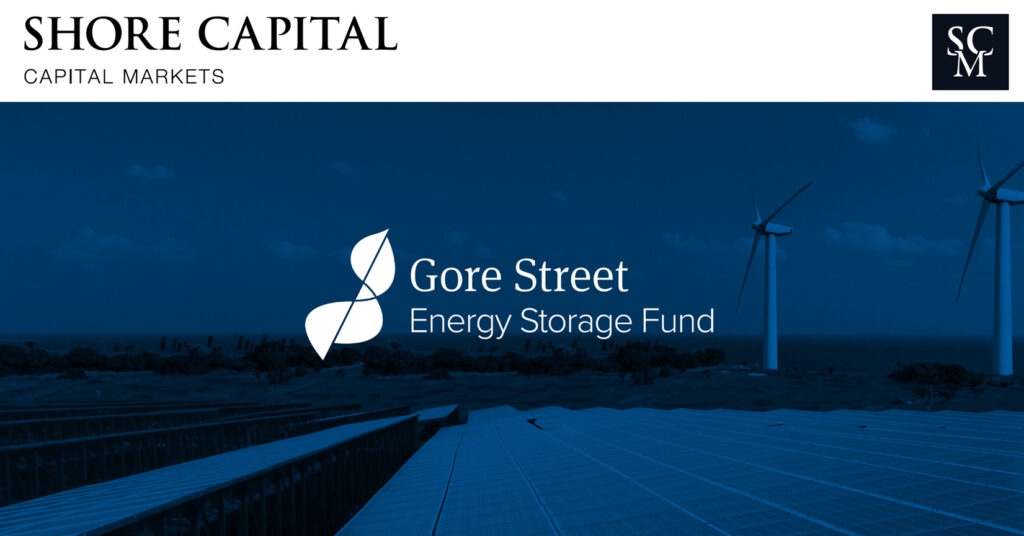 Shore Capital acts as Sponsor, Financial Adviser, Intermediaries Offer Adviser, Joint Broker & Joint Bookrunner on Gore Street Energy Storage Fund's significantly oversubscribed £150m fundraise
Gore Street Energy Storage Fund (Gore Street), London's first listed energy storage fund, has successfully raised £150 million via a significantly oversubscribed fundraise, with Shore Capital acting as Sponsor, Financial Adviser, Intermediaries Offer Adviser, Joint Broker & Joint Bookrunner.
The initial issue is under the Company's 750 million Share Issuance Programme. The funds raised in this round will be used to execute against a significant pipeline of attractive international opportunities and reinforce Gore Street's leadership as the category defining company in this important space enabling the transition to renewable energy and facilitating our path to net zero as well as ensuring energy security.
For further information please contact:
Shore Capital: +44 (0) 20 7408 4090
Corporate Advisory: Anita Ghanekar / Rose Ramsden / Iain Sexton
Corporate Broking: Fiona Conroy
For media enquiries, please contact:
Adele Gilbert: +44 (0)7484 778 331
Note to editor
About Shore Capital
We are an independent securities business offering institutional and corporate clients leading investment banking, research, sales and trading services, including fixed income.  We are represented across the UK enabling extensive distribution and institutional coverage. This distribution capability is complemented by our experienced corporate advisory and broking team who offer discreet, innovative and valued advice to companies on both the Main Market and AIM.  Shore Capital is also the 3rd largest market maker by number of AIM stocks covered.
Our cross-disciplinary team has deep, market leading experience in a wide range of small and mid-cap UK companies within the following sectors: Consumer, Financials, Healthcare, Insurance, Natural Resources, Real Estate, Support Services, Technology and Media. Our research on over 250 companies is distributed to an extensive institutional client base in the UK, Europe and US.
Shore Capital is a trading name of both Shore Capital Stockbrokers Limited and Shore Capital and Corporate Limited.