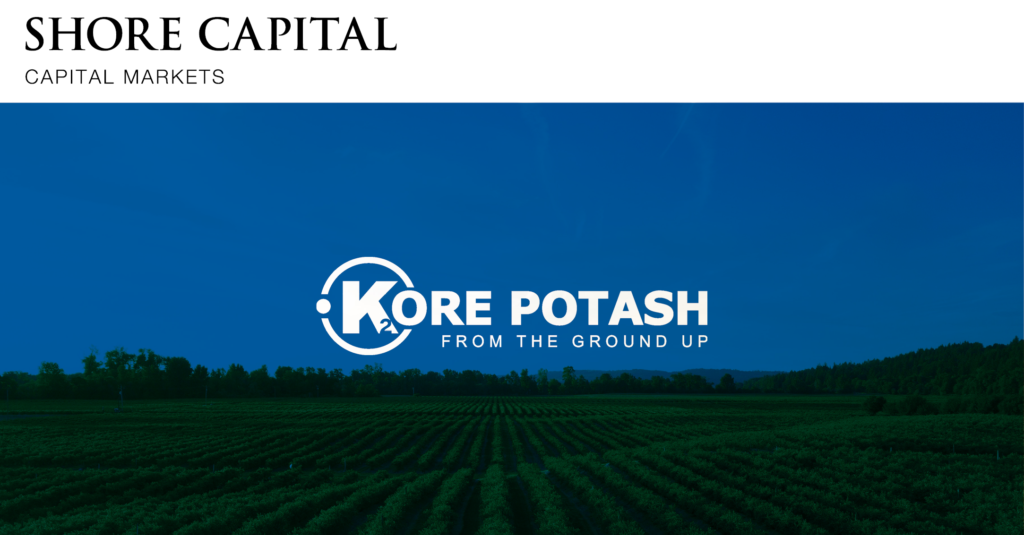 Shore Capital acts as Sole Bookrunner and Joint Broker on oversubscribed $12.5m fundraise for Kore Potash plc
Kore Potash plc (LSE: KP2), the potash exploration and development company whose flagship asset is the 97%-owned Sintoukola Potash Project, located within the Republic of Congo, has successfully completed an oversubscribed Proposed Fundraise, raising gross proceeds of US$12.5m through an unconditional placing, conditional placing and subscriptions, with Shore Capital acting as Sole Bookrunner and Joint Broker.
The net proceeds of the Proposed Fundraise will allow the Company to fund the work it wants to undertake in relation to its planned Optimisation Study of the Kola Project and the Company's ongoing working capital requirements.
For further information please contact:  
Shore Capital +44 (0) 20 7408 4090
Corporate Advisory: Toby Gibbs / James Thomas / Michael McGloin
Corporate Broking: Jerry Keen
For Shore Capital media enquiries, please contact:   Adele Gilbert: +44 (0)74 8477 8331
Note to editor
About Shore Capital
We are an independent securities business offering institutional and corporate clients leading investment banking, research, sales and trading services, including fixed income. We are represented across the UK enabling extensive distribution and institutional coverage. This distribution capability is complemented by our experienced corporate advisory and broking team who offer discreet, innovative and valued advice to companies on both the Main Market and AIM. Shore Capital is also the third largest market maker by number of AIM stocks covered.
Our cross-disciplinary team has deep, market leading experience in a wide range of small and mid-cap UK companies within the following sectors: Consumer, Financials, Healthcare, Insurance, Natural Resources, Real Estate, Support Services, Technology and Media. Our research on over 250 companies is distributed to an extensive institutional client base in the UK, Europe and US.
Shore Capital is a trading name of both Shore Capital Stockbrokers Limited and Shore Capital and Corporate Limited.