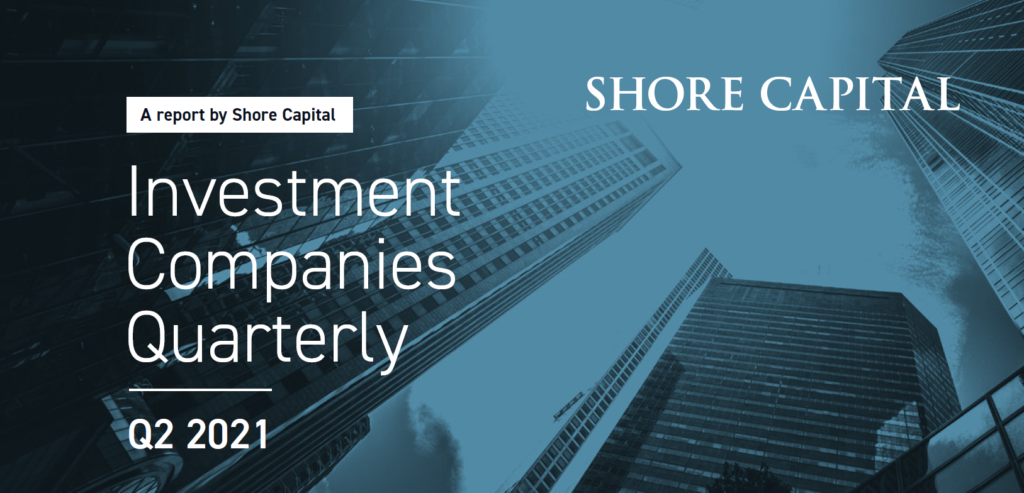 Investment Companies Quarterly – Q2 2021
The activity levels and momentum from the start of the year continued at pace in the second quarter, as pent-up demand has been released. A total of £2.4bn has been raised by investment companies in Q2 2021, and this brings the total in the first half of 2021 to c.£6.2bn; the highest amount ever in a half-year period according to the AIC.
The Q2 quantum was driven in large part by secondary fundraisings undertaken by existing investment companies (£5.1bn), whereas the two IPOs in the quarter raised £279m; Taylor Maritime Investments (£179m) and Aquila Energy Efficiency (£100m). The total amount raised at IPO in the first half of the year amounted to £1.2bn across 5 new launches. This compares to the first half of 2020 which saw just one company launch raising £103m – Nippon Active Value Fund. In total £937m was raised in Q2 by Renewables, Infrastructure and Specialist Alternatives funds, including the IPOs of Aquila Energy Efficiency Trust and Taylor Maritime Investments.
The most active sectors were Private Equity (22%) and Global (22%), followed by Renewables (16%) and Infrastructure (15%). Within Infrastructure, digital-focused concepts continued to be the rising stars with both new launches from earlier in the year raising a follow-on amount shortly thereafter in Q2: Cordiant Digital Infrastructure raised gross proceeds of £370m at IPO in February 2021 and in Q2 £185m via a C-share issuance, whilst Digital 9 Infrastructure raised gross proceeds of £267m at IPO in March 2021 and in Q2 £175m.
The largest fundraisings in Q2 by existing investment companies were Schiehallion's C-share (£498m), Cordiant Digital Infrastructure (£185m), Digital 9 Infrastructure (£175m) and Gore Street Energy Storage (£135m). Investors continue to seek not only growth opportunities in smaller and unquoted companies but also income-generating alternatives such as renewable energy assets and infrastructure as well as new emerging alternative areas like digital infrastructure. Investors are looking increasingly for both income and capital growth. Although income remains a priority, investors appear to be seeking out exciting, higher returning investment opportunities, with a view to optimising total returns and diversified exposure across alternative and emerging asset classes.
The full Investment Companies Quarterly – Q2 2021 is available here.


For further information please contact:  
Shore Capital +44 (0) 20 7408 4090
Corporate Advisory: Robert Finlay / Anita Ghanekar
Corporate Broking: Fiona Conroy
For Shore Capital media enquiries, please contact Adele Gilbert: +44 (0)74 8477 8331


Note to editor
About Shore Capital
We are an independent securities business offering institutional and corporate clients leading investment banking, research, sales and trading services, including fixed income.  We are represented across the UK enabling extensive distribution and institutional coverage. This distribution capability is complemented by our experienced corporate advisory and broking team who offer discreet, innovative and valued advice to companies on both the Main Market and AIM.  Shore Capital is also the 3rd largest market maker by number of AIM stocks covered.
Our cross-disciplinary team has deep, market leading experience in a wide range of small and mid-cap UK companies within the following sectors: Consumer, Financials, Healthcare, Insurance, Natural Resources, Real Estate, Support Services, Technology and Media. Our research on over 250 companies is distributed to an extensive institutional client base in the UK, Europe and US.
Shore Capital is a trading name of both Shore Capital Stockbrokers Limited and Shore Capital and Corporate Limited.