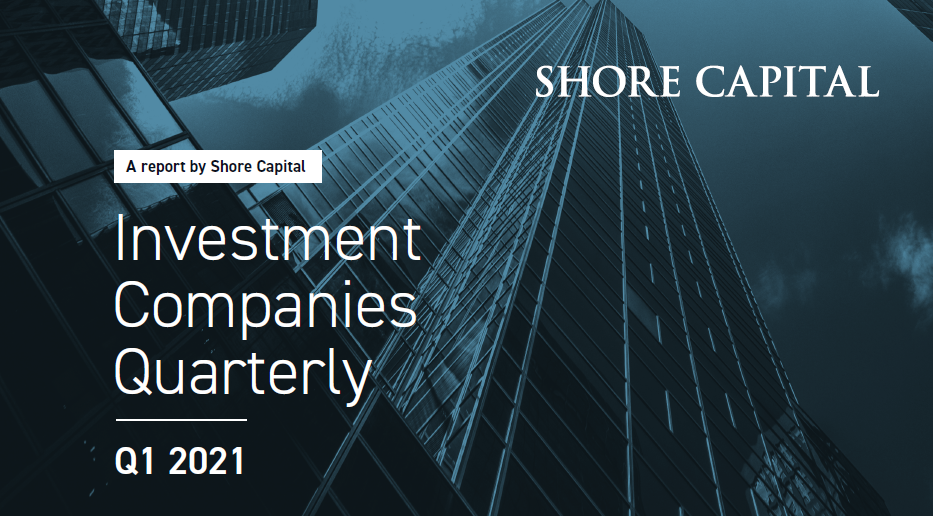 Investment Companies Quarterly – Q1 2021
The first few months of 2021 has continued on much the same footing as the back end of 2020. We have witnessed record levels of fundraising as pent up product supply and investor demand from the fallowed months of 2020 has been released.
Renewables remained the pre-eminent theme with £840m raised in total across the sector, including the IPO of VH Global Sustainable Energy Opportunities, building on the three other renewable fund IPOs in the last three months of 2020. Infrastructure, especially of the digital nature, is the rising star sector following the successful IPOs of both Cordiant Digital Infrastructure and Digital 9 Infrastructure; raising gross proceeds of £370m and £267m respectively. It is certainly a space to watch going forwards.
Elsewhere in alternative assets, media coverage of the music royalty industry has been ever increasing as household name musicians sell their copyrights to financial investors hunting for yield. We expect to see more activity from the two music royalty focussed investment companies as the year continues, noting that Hipgnosis Songs Fund completed a £75m placing in February.
Although the property sector as a whole has been generally out of favour, there have been some seen as beneficiaries from the pandemic, particularly in the warehousing and supermarket related asset spaces. The remainder of the property sector still find themselves on wide discounts.
Equities around the world have had stellar returns since the height of the pandemic, in particularly technology stocks were reaching lofty peaks in January/February. These have come back down as the market sees a rotation from growth to value stocks, however global equity investment companies on premiums have capitalised by regularly issuing stock by way of blocklisting; six global equity focussed companies have issued in aggregate c.£500m in the first quarter of the year through such tap issues.
The full Investment Companies Quarterly – Q1 2021 is available here.
For further information please contact:  
Shore Capital +44 (0) 20 7408 4090
Corporate Advisory: Robert Finlay / Anita Ghanekar
Corporate Broking: Fiona Conroy
For Shore Capital media enquiries, please contact:  
Adele Gilbert: +44 (0)74 8477 8331
Note to editor
About Shore Capital
We are an independent securities business offering institutional and corporate clients leading investment banking, research, sales and trading services, including fixed income.  We are represented across the UK enabling extensive distribution and institutional coverage. This distribution capability is complemented by our experienced corporate advisory and broking team who offer discreet, innovative and valued advice to companies on both the Main Market and AIM.  Shore Capital is also the 3rd largest market maker by number of AIM stocks covered.
Our cross-disciplinary team has deep, market leading experience in a wide range of small and mid-cap UK companies within the following sectors: Consumer, Financials, Healthcare, Insurance, Natural Resources, Real Estate, Support Services, Technology and Media. Our research on over 250 companies is distributed to an extensive institutional client base in the UK, Europe and US.
Shore Capital is a trading name of both Shore Capital Stockbrokers Limited and Shore Capital and Corporate Limited.